Vitamin D3

For as low as $14.95 a Bottle!


D-MAX provides a whopping
5,000 iu's of Vitamin D3 per capsule
Each bottle contains 250 capsules.
Order
Dmax
Online
or Call Toll FREE: 1-877-965-2140
---
WARNING: Don't be fooled by companies which offer a lower price per bottle . . . D Max is a much better value, as it comes in a 250 count bottle, while most other companies sell a 60 count bottle. Based on the single bottle price, the cost of D Max is less than $2.75 per month. (the monthly cost is less when buying larger quantities)

Here is how the $2.75/month is calculated:

Simply purchase 1 bottle of D Max for $22.95. Each bottle contains 250 capsules so at one capsule/day . . . each bottle would last for 8.33 months . . . the monthly cost then is $22.95/8.33 or $2.75/month

Take advantage of our multiple bottle discounts and your cost can go as low as $1.79/month

D Max (Vitamin D3)

• 5,000 iu's of Vitamin D3 per capsule
• 250 capsules per bottle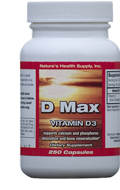 Click Here to see the the Supplement Facts for Dmax

Click Here to see the Certificate of Analysis for the latest batch of Dmax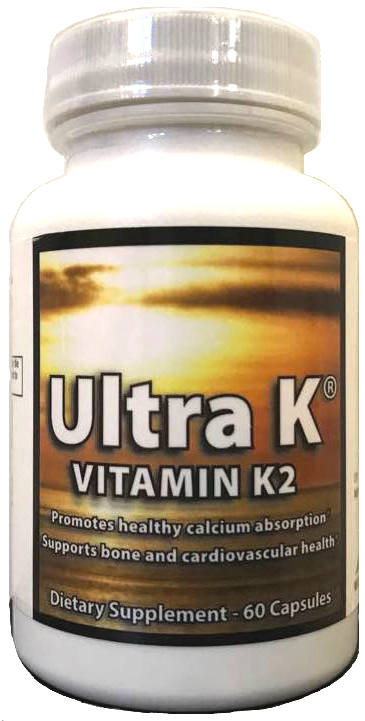 new
Ultra K (Vitamin K2)
• 5 mg of MK-4 per capsule
• 100 mcg of MK-7 per capsule
• 60 capsules per bottle
Whereas, Vitamin D3 plays an important role in the EFFICIENCY of calcium absorption, Vitamin K2 plays an equally import role in WHERE calcium is deposited. More specifically, Vitamin K2 activates K2 dependent proteins in our blood, allowing them to shuttle calcium to where it should be (cells, bones, teeth & connective tissue), and away from where it shouldn't be (heart valves, arterial linings and kidneys).
Unlike most Vitamin K formulas, Ultra K provides a whopping amount of both MK-4 AND MK-7. The amounts provided are not only generous (5mg of MK-4 AND 100mcg of MK-7), but are also pharmaceutical grade (MK-4 is 99% trans form, MK-7 is 70% trans form) and European sourced (NOT from China).
If Vitamin K2 is NOT yellow (as Ultra K is), it is NOT pharmaceutical grade and is probably from China.
Consuming Vitamin D3 increases the demand for Vitamn K2, Ultra K was formulated as the perfect one to one compliment to Dmax. The sugested dosage is one capsule of Ultra K for each capsule of Dmax taken (together at the same time).
Coral Calcium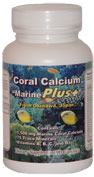 Coral Calcium Marine Plus


based on the Coral Calcium formrula Robert Barefoot used to sell on the Shop America TV Infomercial, but serving size upgraded from 1,000 to 1,500 mg. of Coral Calcium and still comes in a 90-count bottle. Each 3 capsule dosage contains 1,500 mg. of marine grade Coral Calcium from Okinawa, Japan + 816 iu's of Vitamin D as well as vitamins A, B, C & E + Aquamin, Cesium and folates.

Click Here for Supplement Facts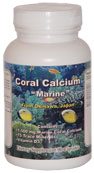 Coral Calcium Marine


Coral Calcium "Marine" is intended for those "purists" who want a "marine grade" coral calcium formulation without any additional vitamins. Coral Calcium "Marine"comes in a 90-count bottle. Each 3 capsule dosage contains a whopping 1,500 mg. of marine grade Coral Calcium from Okinawa, Japan plus 816 iu's of Vitamin D.

Click Here for Supplement Facts






Robert Barefoot:
CD, Video and Books