Vitamin D3 and Bone Health
The major biologic function of vitamin D is to help support normal blood levels of calcium and phosphorus. Vitamin D aids in the absorption of calcium, helping to support the formation and maintainance of strong teeth and bones. It functions by increasing the uptake of calcium from the intestine through interaction with the parathyroid glands in controlling bone resorption and serum calcium levels.
The skeleton is the body's reservoir of calcium and provides calcium through resorption of mineral when serum levels of this essential element drop. Vitamin D also increases reabsorption of phosphate by the kidney tubule, and may directly affect the osteoblast, the cell which forms bone.
Rickets
Rickets is a bone disease that affects children who are vitamin D deficient. It is defined as the failure of the osteoid to calcify. It causes progressive softening and weakening of the bones' structure. This softening results in bones becoming flexible and gradually molded by forces such as bearing weigh exerted on them. Children with rickets may not grow to their full potential and may develope deformities of the body structure such as knonk-knees or bowed legs.
At the early part of the 20th century, rickets remained one of the most devastating health consequences of the Industrial Revolution. It was estimated that more than 90 percent of children in Northern Europe and 80 percent of children in Boston and New York City showed evidence of this bone deforming disease. As early as 1822 Sniadecki identified the importance of sun exposure for preventing growth retardation and skeletal deformities associated with rickets noting that children living in the inner city of Warsaw had a high incidence of rickets whereas children living in adjacent rural areas did not.
This was followed by the insightful observations in 1889 by Palm that children living in London and Glasgow were plagued with rickets, while children who lived in Asia and India were free of the disease. He recommended that children from the inner cities be exposed to sunlight and encouraged sunbathing as a preventive and treatment strategy. At that time however, the medical community, found it inconceivable that skin exposure to sunlight could have any beneficial effect for bone health.
In the 1930s, public health initiatives in the USA, recommended fortifying every cup of commercially sold milk with 100 iu's of vitamin D. This fortification program is still in effect today, and the incidence of rickets in the USA is very low.
Osteomalacia
Osteomalacia is basically the same disease as rickets but occurring in adults. Seniors in northern climates and adults, who do not receive direct sunlight for at least 45 minutes per weekk are most susceptible.
Osteoporosis
Osteoporosis is a disease characterized by fragile bones, resulting in an increased risk of bone fractures. It is estimated that over 25 million adults in the United States have, or are at risk of developing osteoporosis. Osteoporosis is most common in post menopausal women.
Adequate calcium and vitamin D throughout life, along with physical activity, may reduce the risk of osteoporosis in later life.
Osteoarthritis
Arthritis and its associated symptoms occur because of the breakdown of cartilage in the joints. Just as vitamin D may help support healthy bones, it may also help support the maintainance of healthy cartilage. There are many ongoing research studies, looking into the relationship between low intakes of vitamin D and the risk of getting arthritis. The research is very promising.
D Max
®
Contains:
5,000 iu's of Vitamin D3
(per capsule)
250 capsules (per bottle)
Suggested use:
1 capsule per day
(or as directed by your physician)
Click Here to see the
Dmax Supplement facts
Dmax is a great value . . .
While many Vitamin D3 products come in a 60 count bottle, each bottle of Dmax contains 250 capsules. Based on the single bottle price ($22.95), the cost of D Max is less than $2.75 per month. (even less when buying larger quantities)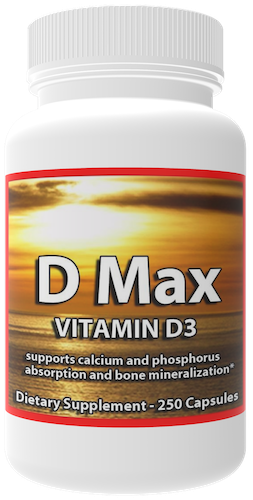 2 bottles

$21.95 each

$43.90
3 bottles

$20.95 each

$62.85
6 bottles

$18.95 each

$113.70
12 bottles

$16.95 each

$203.40
24 bottles

$14.95 each

$358.80
---
vK2
®
Contains:
60 capsules per bottle
(30 day supply)
MK-4 (5 mg/capsule)
MK-7 (100 mcg/capsule)
Suggested use:
1 capsule twice per day
(or one capsule for each Dmax capsule taken)
Click Here to see the
vK2® Supplement facts
vK2
®

is the perfect companion product to Dmax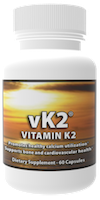 2 bottles

$27.95 each

$55.90
3 bottles

$26.95 each

$80.85
6 bottles

$25.95 each

$155.70
12 bottles

$23.95 each

$287.40
24 bottles

$21.95 each

$526.80
Vitamin D3 stimulates the production of Vitamin K-dependent proteins (VKDP's) such as Osteocalcin (OC) and Matrix gla protein (MGP). These VKDP are critical in shuttling calcium from where it should NOT be (heart valves, arterial linings and kidneys) to where it SHOULD be (bones and teeth). VKDP's can only carry-out this vital function if they have been activated by Vitamin K2.
Everyone should take Vitamin K2, but if you take Vitamin D3, you especially need Vitamin K2 to meet the increased demand that Vitamin D3 stimulates.
Unlike most Vitamin K formulas, Ultra K provides a whopping amount of both MK-4 AND MK-7. The amounts provided are not only generous (5mg of MK-4 AND 100mcg of MK-7), but are also pharmaceutical grade (MK-4 is 99% trans form, MK-7 is 70% trans form) and European sourced (NOT from China).
As can be seen (in the photo below), vK2 is yellow.
If the vitamin K2 you take is NOT yellow . . .
it is NOT pharmaceutical grade
it more than likely contains Chinese sourced ingredients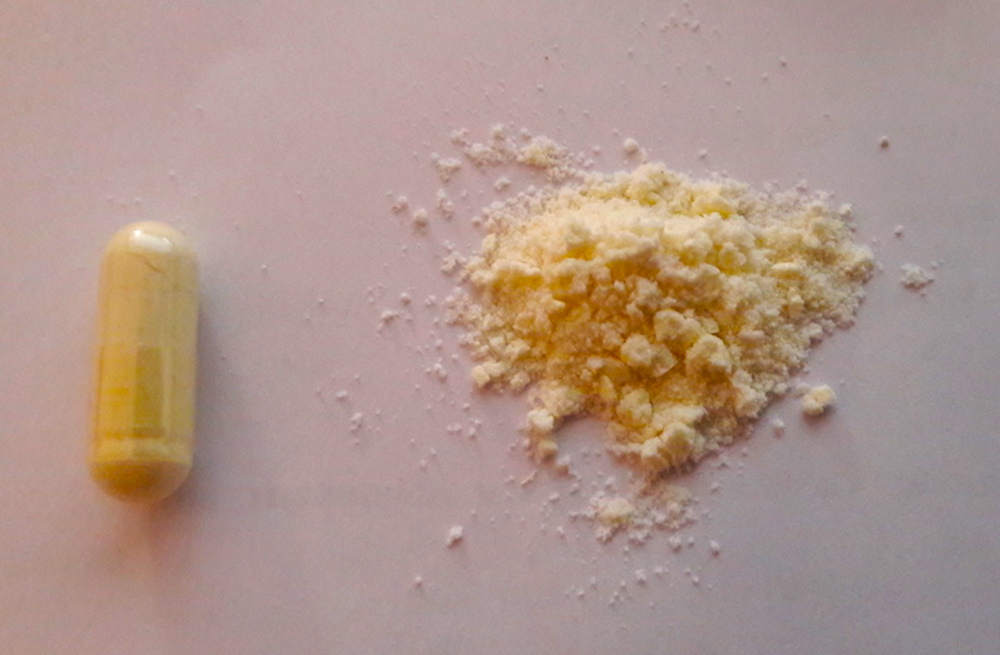 vK2 was formulated as the perfect one to one compliment to Dmax.
The suggested dosage is one capsule of vK2 for each capsule of Dmax taken
(together at the same time).
---
Coral Calcium: "Marine"
Coral Calcium "Marine" is intended for those "purists" who want a "marine grade" coral calcium formulation without any additional vitamins. Coral Calcium "Marine"comes in a 90-count bottle. Each 3 capsule serving contains a whopping 1,500 mg. of marine grade Coral Calcium from Okinawa, Japan plus 816 iu's of Vitamin D
Click Here to see
Coral Calcium:"Marine" Supplement Facts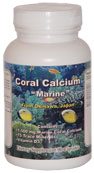 1 bottle - Coral Calcium:
"Marine"

$17.45
2 bottles - Coral Calcium:
"Marine"

Limited Time Offer

Buy 2 (at regular price)

Get 1 FREE:

that's 3@ $11.63 each

$34.90
5 bottles - Coral Calcium:
"Marine"

Limited Time Offer

Buy 5 (at regular price)

Get 3 FREE:

that's 8@ $10.90 each

$87.25
12 bottles - Coral Calcium:
"Marine"

$10.95 each

$131.40
24 bottles - Coral Calcium:
"Marine"

$10.45 each

$250.80
Coral Calcium: "Marine Plus"
Coral Calcium "Marine Plus" is based on the Coral Calcium formula Bob Barefoot used to sell on TV, Serving size upgraded. Comes in 90-count bottle. Each 3 capsule serving contains 1,500 mg. of "marine grade" Coral Calcium from Okinawa, Japan + 816 iu's of Vitamin D as well as vitamins A, B, C & E + Aquamin, Cesium and folates
Click Here to see
Coral Calcium: "Marine Plus" Supplement Facts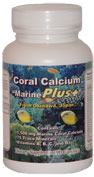 1 bottle - Coral Calcium:
"Marine Plus"

$17.95
2 bottles - Coral Calcium:
"Marine Plus"

Limited Time Offer

Buy 2 (at regular price)

Get 1 FREE:

that's 3@ $11.97 each

$35.90
5 bottles - Coral Calcium:
"Marine Plus"

Limited Time Offer

Buy 5 (at regular price)

Get 3 FREE:

that's 8@ $11.22 each

$89.75
12 bottles - Coral Calcium:
"Marine Plus"

$11.45 each

$137.40
24 bottles - Coral Calcium:
"Marine Plus"

$10.95 each

$262.80